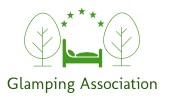 The word Glamping is a portmanteau. It combines the words Glamorous and Camping.
The origins of the word can be seen in the early 21st century. As a result of international financial crisis holiday makers found foreign travel expensive but still wanted a luxury holiday. Value for money became more important and the staycation trend started. At the same time a little known change in legislation that had occurred over a decade before started to take effect on young families that would have stayed in caravans. In 1997 the UK driving licence removed the automatic right to tow a caravan. At the time of the credit crunch a generation were left with limited funds for a holiday and where traditionally young families could turn to camping or caravanning for a cheap holiday; the legislative change meant they had to take a second test in order to tow a caravan.
Thus from the need for value for money holidays that catered for those more use to hotels and had little or no experience of camping, Glamping was born.
Glamping holidays have also seen support from millennials (those born between 1980 - 2000). These young urban professionals embraced glamping breaks as a way to differentiate themselves from their parents' generation with new experiences and something noteworthy for their social media feeds when they holiday.
Glamping, is defined as a type of camping, focuses on the provision of facilities and accommodation that have more luxury than than a traditional camping holiday.
Glamping has spread across the world as a trend in providing accommodation that combines the amenities of a hotel and luxury with camping.
Glamping is also know by numerous other names such as posh camping, boutique camping or luxury camping. The principle of Glamping is for guests to enjoy the camping experience minus any hassle of transporting a tent, pitching it, bringing their own cooking equipment and then dismantling it and taking it home.
Glamping sites offer a variety of different accommodation types including bell tents, geodesic domes, yurts, tipis, pods, cabins, safari tents, vintage caravans, shepherd's huts and tree houses.
A new development within the glamping industry is eco-glamping and digital detox; glamping breaks that give guests time away from modern technology and let them reconnect with nature.
Glamping holidays can provide a wide variety of services ranging from bedding or room service, but most importantly glamping holidays are about accessing nature.
The increase in Glamping Holidays has had the effect of providing access to camping holidays to a new type of guest, beyond that of the traditional camping market of families and couples. Glamping holidays have brought the concept of camping to markets like birthday parties, inter-generational holidays, corporate events and hen parties.
The Glamping Association have provided this history of glamping in the UK as a free resource. You are welcome to cite this history of glamping, giving credit to The Glamping Association. The Glamping Association is the industry body representing glamping. Our committee comprise leading industry experts who volunteer their services for the benefit of the industry. The Glamping Association is happy to provide speakers for events and access to industry researcher, facts and figures regarding the Glamping Industry for the media and private organisations.
Please feel free to contact us regarding specific glamping topics or a more in-depth history of the growth and nature of the glamping business.