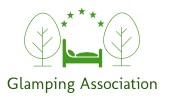 The Glamping Association welcomes enquiries from journalists across the media & press.
If you have a glamping story we are happy to provide comment and quotes or alternatively please feel free contact us to check facts and figures before publication.
The Glamping Association can provide images for publication. As a Not-For-Profit organisation we ask that all images receive reference.
As the trade body for the glamping industry we have a wealth of knowledge and experience. If you wish to have a glamping expert speak at an event or seminar please contact us to discuss the most appropriate industry expert.
Glamping Association Media/Press Enquiry