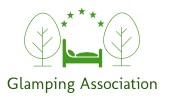 WE ARE RUN BY GLAMPERS FOR GLAMPERS.
The committee of The Glamping Association are all seasoned holiday professionals who actively work in the glamping industry. This allows us to be at the cutting edge of developments and able to lobby government regarding any the issues facing our industry.
The Glamping Association and The Glamping Club were both founded by glamping site operators who were keen to ensure the highest standards in glamping accommodation as well as provide a platform for members of the public that enjoy glamping to come together.
The Glamping Association exists purely to support glamping businesses. We are a not-for-profit body that represents the glamping industry and those that wish to go glamping.
We aim to ensure high standards on our member sites by providing information and guidance for those that are new to the experience of glamping so they can get the most out of their holiday. Our Code of Conduct helps to provide a glamping safety standard for all sites to meet to ensure that all of our members are providing great glamorous camping experiences.