Free Membership to
The Glamping Association
Look for The Glamping Association's logo displayed by our members: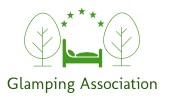 Why join The Glamping Association?
Free Listing
The Glamping Association provides information on glamping sites across the UK



Free Booking Enquiries
Your Glamping Association listing has an enquiry form giving customers the option to submit an enquiry directly to you.



Free Code of Conduct
We are here to support the industry. Our members have our code of conduct as a free guide to ensure they don't fall foul of standards and legislation requirements.



Free Industry Representation
The Glamping Association is the industry association representing glamping. As such we negotiate discount for industry members on relevant products and lobby government on the industry's behalf.



Free Glamping Job Adverts
Members can list job advertisements for their glamping sites free of charge.



Free Overflow Enquiries
When members receive surplus enquirers for dates they are fully booked we help the public by sending these on to other member sites that could help.



Free quarterly update

Our committee provide a quarterly news blast with the latest legislation, regulatory updates and information to keep members up to date with government requirements.



Annual Dinner
Join other glamp site owners for an annual dinner to discuss ideas and concepts.
Arbitration Services
If the worst happens it can be difficult to solve complaints without emotion; when you have put your heart & soul into providing a service. For a small fee the Association will arbitrate between a complainant and the site.
For more information about The Glamping Association's, Code of Conduct or joining The Glamping Association as a site owner please feel free to complete the form opposite or call us 01225 29 09 24
Glamping Association members display the Glamping Association's logo as a quality marking showing they abide by the Glamping Association's Code of Conduct. This gives your guests confidence that your glamping site reaches the Glamping Association's standards and marks a quality provider of glamping accommodation.
Site Owners Membership Application